Welcome to the Planet Manda & bis shop
Here is my new art exhibition "Single Bullets" which is currently on display at Bar Gandolfi in Glasgow until January 31st. Here's the blurb: Using acrylic on canvas, her latest collection "Single Bullets" proves that Manda can make her signature style work no matter the medium. Each of three pieces (only 1/1 produced), "Time Expired", "A Quarter to 3", and "This is Not a Test", takes a frame from a fictional comic strip and moves it onto an individual canvas, leaving the order unknown and forcing each piece to tell its own story. Each piece is on sale for £250 and will ship 1st February when the exhibition ends.
To see larger versions and original artwork, click on each image and then the right arrow.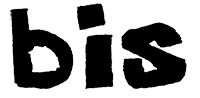 Only here for bis stuff?
Jump straight to it.
---
Single Bullets
Digital
Bis releases are available digitally from the following online stores.
Bis downloads are also available in other Amazon stores worldwide with an mp3 store.